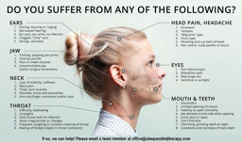 Testimonials:
Are you wondering what patients have to say about Sleep & TMJ Therapy? Please take a moment to visit our testimonial page to take a look at our reviews, social media posts and YouTube videos!
Contact Our Office:
Before traveling to our office, we ask that all new patients read the information below and then contact us (via email or phone) to initiate correspondence. As you are making plans to come in for treatment, we want to offer as much information as possible to address your questions and help you. Since traveling takes a lot of planning, we will assist you in setting up multiple appointments so we can help you find relief as quickly as possible. Please give us a call at 703-821-1103 or email us at so we can get started!
Prepare for Your Visit:
Before coming to our office, we ask that you complete our New Patient Questionnaire. Your questionnaire will be submitted and received electronically. Please allow 20 to 30 minutes to submit your information. Be sure to include as much detail as possible as this will allow our dentist to better serve you. We require your questionnaire to be submitted in advance so our Dr. Jeffrey Brown can review your history and symptoms in detail before he will meet with you. This helps to make your initial consultation more efficient and productive.
Telemedicine Consult Instructions:
Telemedicine consultations are an easy way to meet with the doctor so he can screen, evaluate and start diagnosing underlying problems while you are in the comfort of your own home. Please note, all telemedicine consults must be scheduled in advance. When preparing for your consult, please make sure you are using a smart phone, tablet or computer with a webcam. Five minutes before your scheduled call, click the button below. You will be prompted to enter your name and then you will be prompted to enable your camera. Once you have completed these steps, you will be in our virtual waiting room. Dr. Brown will initiate the call at your appointment time. If you need to schedule a TMJ or sleep apnea appointment in Falls Church, Virginia, or have any trouble at all, please call one of our team members at 703-821-1103.
Start a telemedicine call with Dr. Brown
First Appointment — Initial Consultation:
(Appointment Time: 30 – 40 minutes)
If you are joining us in-office for your initial consultation, please arrive 10 to 15 minutes early so you have plenty of time to find our office and make your way to the third floor where you will find us in suite 301. Once you arrive, our team will walk you through our check-in process and introduce you to Dr. Brown so he can perform a thorough head and neck exam. This examination focuses on craniofacial bone alignment, airway, oral health, identifying TMD symptoms, sleep habits, posture and overall development. If the exam indicates an underlying TMJ dysfunction, the dentist will provide you with an order for a TMJ MRI so he can get a clearer look at what is going on internally. We find that many of our patients experience TMD symptoms when there is disc dislocation in the jaw joints. Since MRIs show soft tissue, Dr. Brown will be able to evaluate the condition and the position of the articular discs and gain a better understanding as to what is happening internally. Once the initial consultation with our dentist is complete, you will then head to the MRI center for imaging of your TMJs.
* It is very important that you schedule your MRI appointment in advance to ensure you can be seen right after your initial consultation. Please keep in mind you will need a prescription for this MRI, so you need to meet with Dr. Brown before your MRI appointment. Without the MRI, we may not be able to proceed to the second appointment. In the case the doctor does not want you to have an MRI taken, we will call Novant Health to cancel your MRI appointment for you and we will proceed to the second appointment and review your treatment plan.
*For questions regarding fees and scheduling with Novant Health Imaging, please contact them directly by calling 703-356-4900.
Second Appointment — Treatment Consultation:
(Appointment Time: 30 – 40 minutes)
If the doctor recommended a TMJ MRI, your MRI report will be sent to our office, ready for review. The MRI imaging and report from the radiologist, who has personally worked with our office for over 25 years, will allow the doctor to evaluate the TMJs and determine the extent of the condition and dislocation. During this appointment, the doctor will review your MRI results with you. At this time, you will be provided with a treatment plan that aims toward reducing your symptoms and improving your health. Once Dr. Brown has explained your treatment plan in detail, you will meet with our Treatment Plan Coordinator to discuss all available financial options.
Third Appointment — Work-Up Appointment:
(Appointment Time: 60 – 90 minutes)
After we have discussed any and all concerns regarding your treatment plan during the treatment consultation (above), we can begin your work-up appointment. If you choose not to schedule a work-up on the same day, we can always schedule this appointment for a different date. Please let us know what works best for you.
The work-up consists of taking X-ray images, photography for postural analysis and digital scans of your teeth. Once we have completed the workup, the digital scans will be sent to the lab that same day. Your treatment plan will likely consist of an appliance or appliances that will be ready for fitting in approximately three to four weeks. Our team will coordinate your appliance delivery appointment by calling you once your appliance or appliances arrive at our office.
*If you would like to book a work-up appointment directly after the MRI consultation during your visit, a deposit will be required to hold this appointment due to the length of time we are reserving. The deposit will be used as a credit toward your treatment once you come in.
Fourth Appointment — Delivery/Fitting of Appliance(s):
(Appointment time: 30 – 40 minutes)
During your appliance delivery appointment, Dr. Brown will adjust the appliance or appliances to start treatment. Once the appliances are adjusted properly, Dr. Brown will record measurements so we can track your progress. Once the appliance or appliances have been delivered and adjusted and you are feeling comfortable, you are free to head home!
Future Visits:
In order for treatment to produce results, you will need to plan follow-up visits every four to eight weeks to have your appliance or appliances adjusted for one year. These follow-up visits are critical since your appliance could wear down, which may result in an increase in your symptoms. After 12 months of treatment, Dr. Brown will reevaluate with a new MRI and X-rays to track your progress and determine the next course of action. We understand that traveling frequently is not easy, so if you have a doctor who is willing to help with treatment between visits, we would be happy to accommodate to the best of our ability.
Insurance & Billing:
As our practice is out of network with all commercial and government insurance carriers, our administrative team will do their best to obtain preauthorization, predeterminations and benefit rundowns with your medical and dental insurance carrier once the treatment plan has been established. This provides you with an estimate before moving forward with any remedy. After the initial filing, our team will provide you with appropriate medical (CPT) and dental (CDT) procedure codes for you to submit your follow-up claims through your insurance portals. We found this to be the fastest way for you to receive your benefit reimbursements. Our goal with the filing process is to allow you and the doctor to focus on getting you better. Please be aware that we do not participate with Medicare or Medicaid. We accept Visa®, MasterCard®, American Express, Discover®, cash, check and CareCredit®.
For Your Convenience:
Local Restaurants, Hotels and Entertainment: TRIP ADVISOR PACKET
TMD Decompression Test to Reduce Symptoms: STICK TEST
Watch Videos About Our Office: EDUCATIONAL VIDEOS
Tour Our Office!