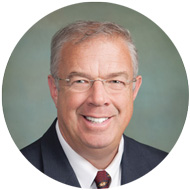 Dr. Jeffrey L. Brown grew up in the state of Maine and went to Bowdoin College, where he graduated magna cum laude in 1982. He accepted an early decision acceptance into the Georgetown School of Dentistry and graduated from there in 1986. While at Georgetown, Dr. Brown worked in the neurology department as an assistant on a project that involved studying the regeneration of nerve tissue in the spinal column after major trauma.
Upon graduation from Georgetown Dental School, Dr. Brown worked for a short time as an associate in a practice in Falls Church, Virginia. From there, he moved on and built his own practice in the Fairlington neighborhood in Arlington, Virginia, creating one of the largest practices ever seen on the East Coast.
Dr. Brown took a short sabbatical to help raise his four young children and to continue his education. It was then that he began the process of understanding sleep apnea and how it correlates to TMJ treatment. His knowledge in the combined fields of TMJ, sleep and orthodontics has given him a perspective unlike most other practitioners who perform basic dentistry. In addition, Dr. Brown has also learned the advanced techniques involved in expanding an airway so that both children and adults can breathe better. His training continued over time at the famous Sleep Center near the Emory University Hospital. He is a certified Fellow of the American Academy of Craniofacial Pain, was awarded the level of Legacy with the ALF Interface Academy and holds memberships with many other academies.
Meet Our Team
When you visit Sleep & TMJ Therapy, you will be met by a highly trained and experienced team of professionals that are here to help our dentist provide you with the care you need and to ensure that you have a great experience at our office. Our friendly team members can see to your needs and help you understand your treatment needs and options. Our team speaks English and Spanish, and you can get to know each of them below. To plan your appointment for sleep apnea or TMJ/TMD treatments in Falls Church, Virginia, please contact our office at 703-821-1103 today.

Karina
Certified TMD Dental Assistant
Karina is our lead assistant and manages all of our lab cases here at Sleep & TMJ Therapy. She started working with Dr. Brendan Stack in 2008, which has given her noteworthy experiences in the TMJ / sleep apnea/orthodontics field. She is honored that she was able to observe his work over the years and she is dedicated to sharing this knowledge with our team and patients. While working, Karina attended ECPI University, where she received her associate degree in the health science field. Over the years, she has achieved an excellent clinical and patient-relation skill set, which allows for our doctors to help many patients live pain-free lives. One day, she hopes to return to school to further her education in the dental field. When she is not in the office, Karina spends quality time with her two sons and daughter.

Tamyra
Certified TMD Dental Assistant
Tamyra is a member of our clinical team who studied at the Metropolitan Institute of Health and Technology and is a Virginia native. She has been working in the dental field for 10 years and absolutely loves it. As you may know, there are few TMJ specialty offices around, so we were ecstatic that Tamyra has previous experience in the field of temporomandibular joint dysfunction (TMD). She has four beautiful children, three girls and one boy. Her goal is to give her kids the most out of life and to be the best mom she can be. She looks forward to meeting you all!

Jasmine
Sterilization Tech/Dental Assistant
I began my health care career here at Sleep and TMJ Therapy. Newly to this field, I am using my past career experiences in customer service to provide and continue our practice goals for exceptional care for our patients. As the Sterilization Technician/ Dental Assistant I am tasked with helping my fellow team members and patients by providing and assisting with their care above and beyond the normal expectation. To continue the development towards a TMD assistant, she is planning on attending NOVA to expand my career. As a native of Virginia, she enjoys and the surrounding amenities this area has to offer. She enjoys making memories with her 3 year old daughter and her two dogs.

Ruth
Licensed Massage Therapist
Ruth is a wonderful and caring therapist who has over 15 years of experience in the dental and TMJ fields. With her wealth of experience and her passion to help others, she has proven to be a great asset to our patients and our team. To get some background on Ruth, she is a graduate of Northern Virginia Community College and received a license to practice massage therapy from Potomac Massage Training Institute. Ruth is originally from Mexico, but she has made this country her home for 30 years. Outside of work, Ruth is passionate about traveling, dancing, attending cultural events and enjoying delicious food.

Will
Treatment Coordinator
Will became a part of the team in May 2022 as our treatment plan coordinator. His long experience with customer service and his experiences within general dentistry helps his focus on patient care in his new role with our practice and makes him a great addition to the team. He has the tools to assist patients in understanding the specific treatment plan being presented and provide the highest customer service. By continuing his education in medical management, he hopes to help further develop his ability to care for others and create the best positive patient experience. When he is not in the office, he loves going out into nature, and you can often find him on a local trail or into the Shenandoah. The best part of his evenings is spending time with his bunny, Luna.

Elizabeth "Liz"
Patient Coordinator/ Scheduling
Entering the work force at the young age of 19 years old, Liz has since then and continues to show dedication, integrity, and caring for all our patients. Since joining Sleep and TMJ Therapy, she found herself transitioning into the medical/dental field. This has started a new step in her journey. As one of our Patient Coordinator, Liz aids in helping each patient scheduled their needed appointments and helping them stay current with their treatment. If you need help with your appointment, she will strive to provide the best possible care and timing for you. Her goal is to continue her medical education, and to integrate knowledge from both the practice and her education, to help our patients. Outside the workplace, Liz loves to kick back and relax. But, not for long as you can find her explore nature on one of NOVA's many trails, indulge in delicious new food, and dance the night away at solo concerts.

Christina "Tina"
Patient Coordinator/Billing
Tina joined the team in April 2023. Her last four years were spent in the medical environment with a urgent care facility. She has developed her skills with medical billing and will be very happy to assist with any insurance questions or claim concerns. As part of being in the health care field she has a strong work ethic to always ensure our patients had an productive and friendly experience at every visit. She is one of those people you meet who will always have a small on her face and very willing to help. As a native of Falls Church , she is proud to call Northern Virginia home. In her spare time, you can find her playing with her beautiful grandchildren or cheering on our local sports teams. If you have time – Tina is ready to discuss the latest game points.