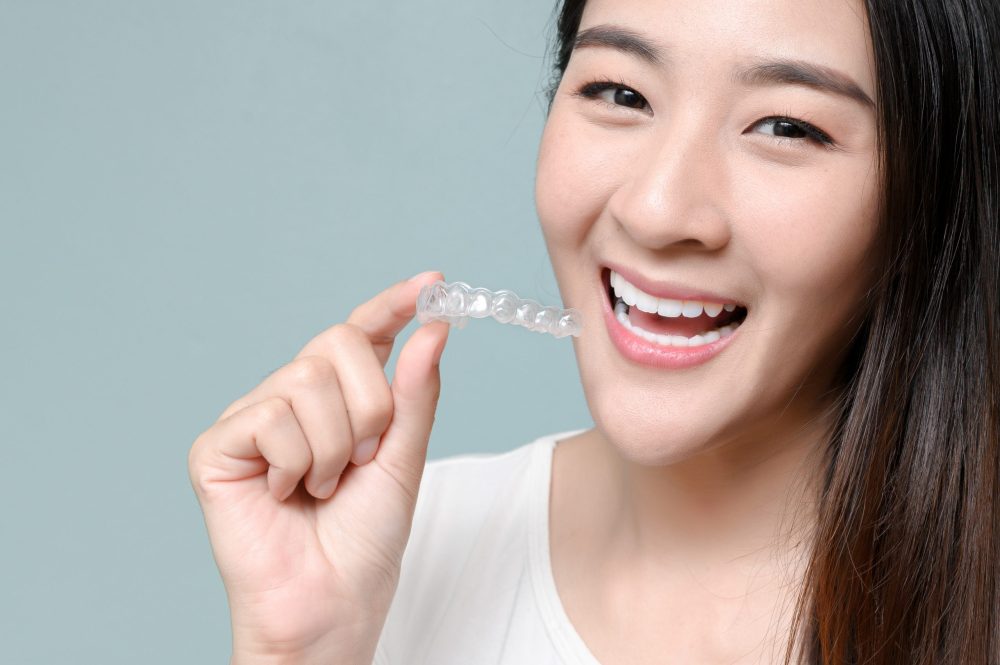 It is no longer necessary to put metal on your teeth for almost all orthodontic treatment. The new generation of clear aligners can in most cases work better and be healthier for you than the old-style metal brackets and wires. Because of the kind of orthodontics, Sleep and TMJ Therapy, we have found a better path to lift up (erupt) the teeth in a more controlled and healthier way in terms of your oral care brushing and flossing. In the past, using metal braces, we could erupt the teeth to better support the TM joint, the discs, and the cranium. However, new research indicates that metal wires are around 12 times more forceful than the clear plastic aligners (when using the newest technology). At our office we would use only the softest, lightest, orthodontic wires available because this gentle approach allows the teeth to erupt quite nicely and with minimal force. But if there was a better, healthier way, why not use it?
The clear aligners that we use are from the 'Spark' company; an offshoot of the original metal braces company called 'Ormco.' When the Invisalign® patent expired some years ago, the Spark company figured out a way to use softer, gentler aligners to move the teeth. Once the majority of the movement has been accomplished, they would then use stiffer aligners to refine the case.  This has become a major advancement in the field of orthodontics. The gentler aligners mean less discomfort to the patient and less trauma to the teeth. In almost all cases that we see, the teeth need to be taller to support the TM joints so softer aligners mean less stress to the teeth as they erupt taller. This means higher success in lifting the teeth and a better end result for your TM joints!
The technology of digital scanners has a two-fold benefit to both the patient and the doctor. In lieu of using the old-fashioned putty impressions to make an orthodontic appliance, a digital scanner can not only make the process more comfortable, but it is by far more accurate and easier to send to the lab for manufacturing. No longer is an impression being shipped via snail mail; it is sent instantly through the computer to the lab, and they can print a plastic model of the teeth right away. This makes it safer as well, no more saliva or blood being shipped in the mail. (Even though everything was carefully disinfected, this is a huge improvement in the handling of dental cases.) The lab technicians are also safer because they digitally print the model of the teeth and no longer need to handle putty that is potentially infected.
A very new technology that will show up soon enough is the ability to use an app on your phone to digitally scan the progression of your orthodontic case. It already works and soon enough you will see it everywhere. Technology is great!